66 Tattoo Canvases

Wanted for Immortal Tattoos upcoming Event. If you think you can be part of it. Why wait? Just email me !!

Tattoos are charged at ONLY

$50 per session

. If the tattoo can be completed in one sitting, its still

ONLY $50

!!

Minimum size of Tattoo must be of 15cm in height. But if you want to do something smaller and if you think its a good design, just let me know.

The canvases who are undergoing work progress by me

CANNOT

apply for this event.

If you are interested do email me : Immortal_Tattoos@mail.com

Additional Info : 5 Females are needed for inking. Tattoos are done for free. U must be able to model for photo shoot. We don't want shy ladies. Do email me if you have any questions.

Thank u all for your time.

PS: This event is held in Singapore only.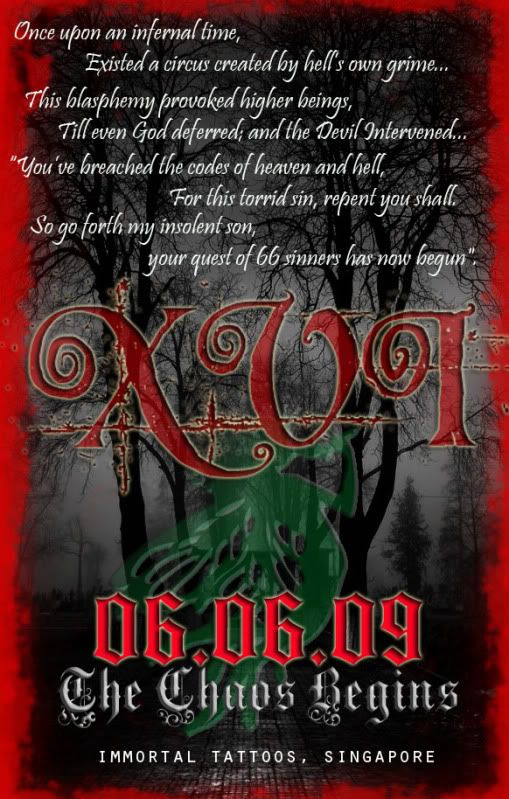 Once upon an infernal time,
Existed a circus created by hell's own grime
The circus bred freaks that thrived on pain,
Thereby giving it, its sordid name.
In the carnival of pain, lived a freak,
Whose daily pain made the guillotine seem meek.
Diamond fangs, the condemned called him,
The Grand Meister, of the Carnival of eternal Sin
And the pain he felt, he transferred to ink,
With which he marked bodies till raw and pink.
This blasphemy provoked higher beings,
Till even God deferred; and the Devil Intervened.
Black, angry and searing pains he felt,
Of kinds which make hardest stones melt,
Voices of those past inked, echoed painfully
Right through Diamond Fang's head; throbbing violently.
The creature thought, for sure he'll explode,
For minions of hell destroyed his abode.
Scorched his eyes, and flayed his body
Until his tainted soul was ripped all bloody.
Thus when he was about to break,
The visions cleared and a voice thus spake,
From its high throne of gory splendor,
Said the Devil with glistening evil ardor,
"You've breached the codes of heaven and hell,
For this torrid sin, repent you shall.
66 irredeemable sinners you must find,
And mark them with the ink of thine,
Then only will your soul mend,
And back to your Carnival, you may tend.
Break me this chain of human sacrifice,
And your soul can never survive
So go forth my insolent son,
your quest of 66 sinners has now begun".